Whether you've been sharing family stories over the years or you just started tracking down photos of your ancestors, there comes a time when you want to preserve all those memories. Use these family tree book ideas to create a unique keepsake for yourself or a gift to share at anniversaries, birthdays, holidays, and family reunions.
Keep in mind, putting together a family tree book is usually not a rush job, so give yourself time to enjoy the discovery process. You are part of history in the making!
Pick a type of family history book
There are many different styles of family tree books—from classic family photo albums to long-form narratives. You can include a simple family tree diagram or an extensive list of family members and biographical data. Adding photos, historical documents, and storytelling will make your family history book even more engaging. What kind of book interests you?
Family tree and genealogy
"Our family" tree: Photos and brief descriptions of living family members, going back to grandparents or great-grandparents. Ideal for a child's birthday or graduation gift.
Individual book: Trace the ancestry of one person, working back through time. Makes a good birthday, graduation, new baby, or holiday gift.
Combination book: Document the ancestors and descendants of one couple (e.g. your parents or grandparents). Perfect for anniversaries, holidays, and family reunions.
Descendant tree book: Start with an ancestral couple and work forward to the present day, identifying all known descendants.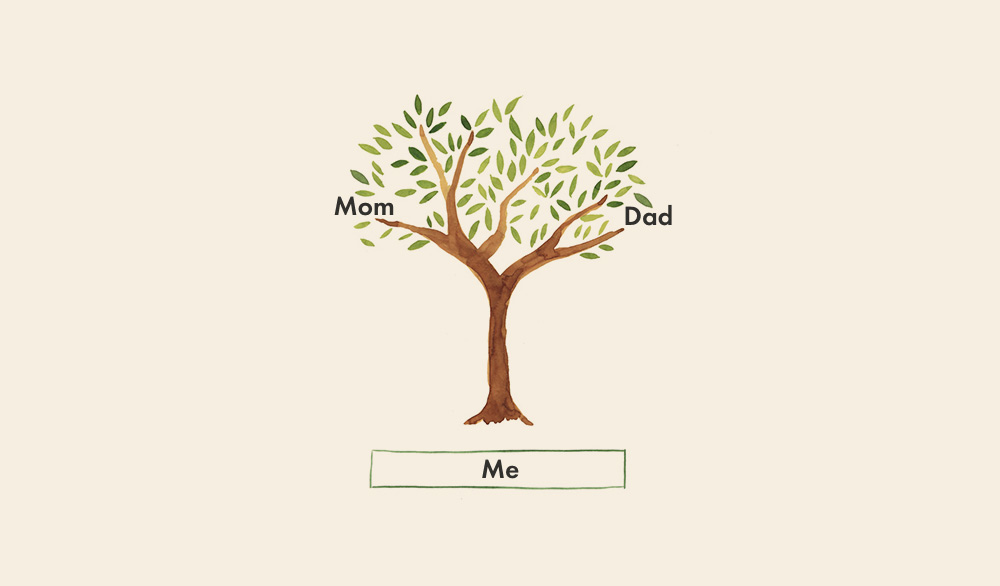 Biographies and family narratives
Family memoir: Photos of a parent, grandparent, or relative, along with stories from interviews, journals, newspaper clippings, maps, and postcards.
Individual biography: Stories and photos of an ancestor, where they lived, and historical records.
Annotated journal, diary, or letters: Copies or transcripts of a relative's writings, with notes on family background and historical events.
Research your family tree book
1. Discover your genealogy
A core part of your family tree book research will involve compiling a list of basic information about your ancestors: names, relationships, dates, and places of birth, marriage, and death. You may start by talking to parents or relatives, but you'll probably need to consult public records and resources (genealogical search websites, libraries, courthouses, churches) to fill in all the blanks. Look for downloadable templates online to help you create a multi-generational chart, family group sheet, or research log—which are great organizational tools you can share with relatives even if you don't publish them all in your book.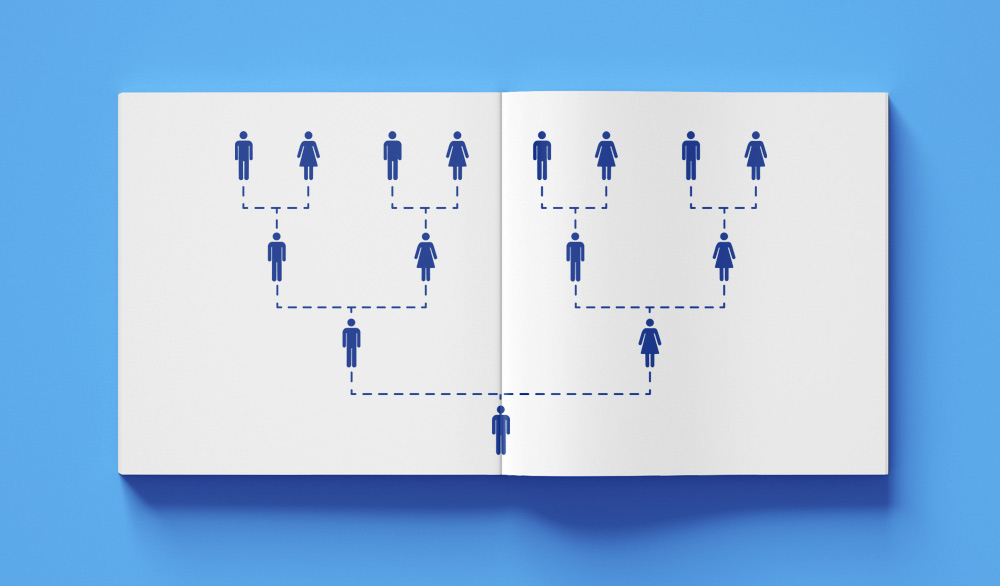 2. Interview family members
Some of the most unique stories and personal anecdotes may not be recorded anywhere, so you might have to rely on conversations to collect all the details. These family narratives are the real gems that can bring your family tree book to life, so take the time to interview relatives from different generations, if possible. Prepare a list of questions or prompts to get the dialogue going.
Possible interview topics: childhood, school memories, family life, friends and sibling stories, hobbies and talents, sports, music & books, community, work-life and career, wedding memories, raising children, trips and vacations, holidays, memorials, food traditions, native languages, religion, cultural celebrations, songs.
Don't be afraid to ask follow-up questions or see if your family members have additional photos and memorabilia to contribute to your family history book.
3. Choose a theme
Remember, you're creating this family tree book for yourself and for other family members to enjoy reading. So, while it may be tempting to include every last bit of research, you're better off choosing one person, couple, event, era, or theme to build your book around. Which family stories or individuals stand out to you? If there is one relative that you share a special bond, start there.
Look for anecdotes that capture the personalities or unique qualities of your family members—their goals, hopes, dreams, experiences, or emotions. Your family tree book may contain funny, thrilling, or charming moments along with stories of hardship, perseverance, and triumph. All those details and insights will make a truly compelling family book as long as you organize them clearly.
Create your family tree book
Now that you have your information, it's time to actually build your book! Here is exactly how to do it.
4. Make an outline
Create an outline to organize your research notes and images before you begin writing. Having a game plan will help you stay focused. If your book is incredibly long or too dense, your relatives will be unlikely to read it all. It's a good idea to arrange the book chronologically, rather than jumping forward and backward in time, which can confuse readers.
Key elements: book title, foreword/introduction, table of contents, timeline or chronology, family tree diagram, narrative chapters (by individual name, family, or year), list of photos and images, maps, appendices, index).
5. Select photos and graphics
Along with photographs, you may include maps, newspaper clippings, charts, event programs, tickets, certificates, announcements, official documents (deeds, wills), recipes, letters, poems, stories, songs, art, drawings, and diary or journal pages to help illustrate each story. As you scan each item, label the digital file with the family member's name, date, and description. You may end up with enough information (and inspiration!) to create a second or third volume of your family history book, so organization counts.
6. Write and edit the stories before adding text to page layouts
Type up and proofread all your writing in a separate document first, so you can see how much text you have. Be a tough, yet thoughtful editor—and refer to your outline to keep the story on track. Better yet, ask a friend or family member to read your completed draft and see if any stories need clarification, reorganization, or cuts for repetition. Check for grammatical and spelling errors, too!
7. Create simple layouts and add captions
Think about readability and accessibility when designing the page layouts of your family tree book. Try to alternate long passages of text with a page or two of photos or illustrations. Don't shrink the images down too small or crowd too many on one page. Add image captions to highlight details that may not appear in the main text. Check out our free templates to get a head start on your pages. 
8. Choose a quality paper and cover type
You're making an heirloom-quality keepsake that you hope will be passed down through the generations and enjoyed for years to come. For the best image reproduction, choose high-quality paper. A hardcover binding with premium paper can be well worth the cost and truly stand the test of time. Explore Blurb cover types and paper options to find the best fit.
There's only one thing left to do! Print copies of your beautiful family tree book to send as gifts, share at family reunions, or donate to your local library or historical organization.
For more tips and inspiration on preserving family history, explore these ideas for making a grandparent book.